TODAY
-- got up to go to the doctor... got some sort of viral COLD....not bacterial so no antibiotics needed.. just OJ.....
Next-
a drive up to Tampa and a prolonged search for
suite 108
--the fingerprinting place--
The wait to be seen ended up being about an hour and a half....
THEN
-a stop at chili's for a bowl of chili. Expected a much tastier bowl being it's the namesake of the place.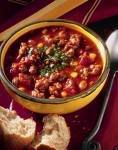 Have you any favorite bowl of chili recipes?
white, vegan, chicken, traditional
??