I tried a new recipe tonight. I really recommend it!
Since most low calorie diets don't count
red peppers
and
asparagus
and since lean chicken is a low- cal food this
recipe
can't be beat!!!
Now I did
edit
the recipe and used
no tomatoes or cheese
. I love how it doesn't use any oil! Steamed chicken is so tender!
now I'm wishing I had taken a photo for you!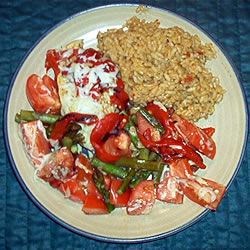 The small photo to the right is from allrecipes.com and as you can see has the cheese on top.
YUM.
note this recipe that I am anxious to try:
angel bites